Invented in 1764, this machine revolutionised the world of weaving and really started the industrial revolution. It was invented by James Hargreaves in Lancashire , in stanhill. It was a way to produce cloth super fast, and cheaper. It was 8 times faster than getting one person to spin one spool of wool, the spinning jenny could spin eight spools at once.
Why was the spinning jenny important?
It was important in a number of ways. There was mass opposition to the industrial revolution. It greatly worried people that they would lose jobs, given one spinning jenny could take the place of 8 people, naturally people were worried and angry that it would take jobs, as well as livelihoods and increase competition.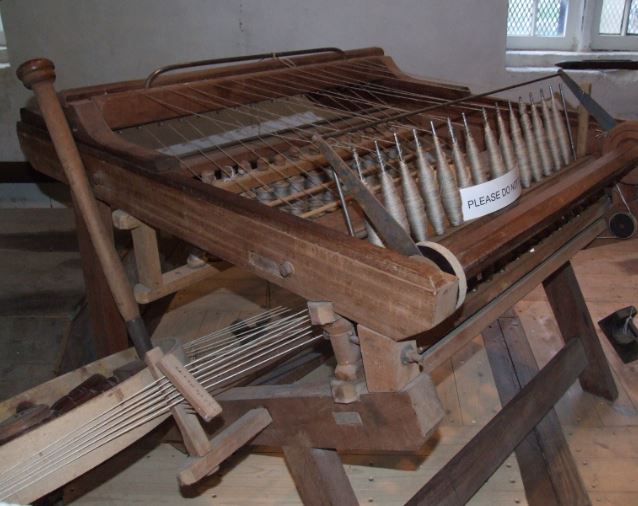 Perhaps it is like today when robots have inevitably taken over people's jobs and reduced the need for humans to do menial tasks that can be easily automated.
Spinning jenny impact
It greatly impacted progress and productivity, there was also the fact that before these inventions, cloth was produced very slowly and much of it was imported by the east india company. After the calico ban on textiles, and imported fabrics it brought the focus inward and people wanted to keep up with demand.
Higher quality items and weaves such as Taffeta were still woven by hand. As well as bouclé fabric.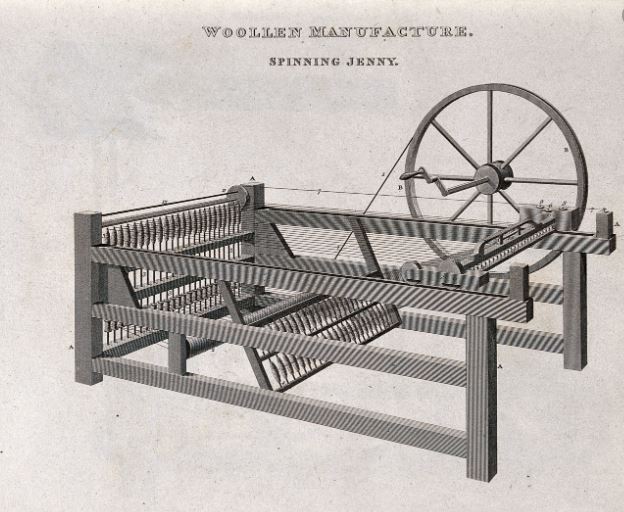 How does the Spinning jenny work?
The spinning jenny relies on using the flying shuttle invention to spin. It uses eight wooden spindles which are attached to a bar,. The bars are moved together and the yarn spins together. When the pars are returned to the original position, the thread winds onto the spindle which means it would be perfect for making into cloths and fine products.
Spinning jenny facts
There was also an issue with the quality, although it improved the speed of things by 8, it also halved the quality of the thread, which made a lot of people not have hope or too much faith in the industrial revolution. It was also required for Britain to create something like this because there was so much demand, because of what was going on overseas. Britain was at war with many different nations at this time, be it the american war of independence, the seven years war and the Napoleonic war created a lack of global trade and a want to create things within Britain because of the lack of merchants sailing and trading with other continents.
Who was the Spinning jenny invented by?
The spinning jenny was invented by James Hargreaves, bu it was claimed Thomas earnshaw actually invented something similar but was said to have destroyed it because of the jobs it would have stolen front he poor people that relied on it for jobs,
Is the Spinning jenny still used today ?
It is not used today because it has been out-invented as it were. After the spinning jenny, there was the spinning mule, which is the foreboding contraption you would have found in Victorian mills. It used children to operate and was quite dangerous. You can probably go to a museum to find a working example.